Today's menswear lives in a space with limitless boundaries. As new collections have been unveiled over the past few years, we've witnessed a striking transition in men's fashion, with classic looks becoming less and less mainstream. There's no judgement here as to whether this is good or bad, it's simply a personal preference. Fashion is art, and art is always about one's perception. However, I believe that the truly successful brands have the wherewithal and creativity to harness the free-flowing genderless styles of today, while also keeping in line with the guidelines that govern traditional menswear design.  Joseph DeAcetis'  POTRO is that brand!
POTRO was launched in 2021 by acclaimed American fashion journalist and international fashion editor Joseph DeAcetis, with a desire to pay homage to the Latino community, by highlighting Hispanic culture and the benefits it has had on American society. Mr. DeAcetis believes that the Latino community is not properly represented in the fashion world despite having created some of the world's strongest fashion, in countries such as Mexico and Colombia. With an impeccable eye for detail, Mr. DeAcetis has seen a large number of trends that have been derived from Hispanic culture, and was ultimately inspired to create POTRO to represent that.
According to the Pew Research Center, Hispanic Americans and Latino Americans make up more than 18% of the U.S. population, with over 57 million Hispanics and Latinos living in the United States. Latino Americans were a part of this country before it was even a unified nation; the U.S. has been built upon the Hispanic community. POTRO speaks to this ideology. POTRO's adaptations, accompanied with defined lining and details, portrays the menswear of today. What POTRO has captured from the spirit of contemporary Latino men is power without exuberance, masculinity with ease, quality with simplicity, style with identity, and a culture with solidarity. Through the development of a luxury menswear lifestyle brand, POTRO celebrates and honors the unification of Latino culture in America!
Joseph DeAcetis began the POTRO label in 2021 and has since cultivated an archive with a series of heritage and military motifs that form a modern essence of Latin-x culture in the USA. The brand was conceived initially as a unique mix of tailoring and sports luxe; a balance of sexy and serious; and of the athletic and the revolutionary.
DeAcetis has also found a fanbase of customers identifying with the concept of wearing style as a badge of honor: a message to the world. This season's 'Military Mix' is an exploration of free-form shapes and styles cut to fit and flatter younger millennials and Gen-Z making their style mark on fashion's timeline.
POTRO has unveiled two collections being the SS22 collection and the FW22 collections which were both on display during NYFW for their respective seasons at Sony Hall.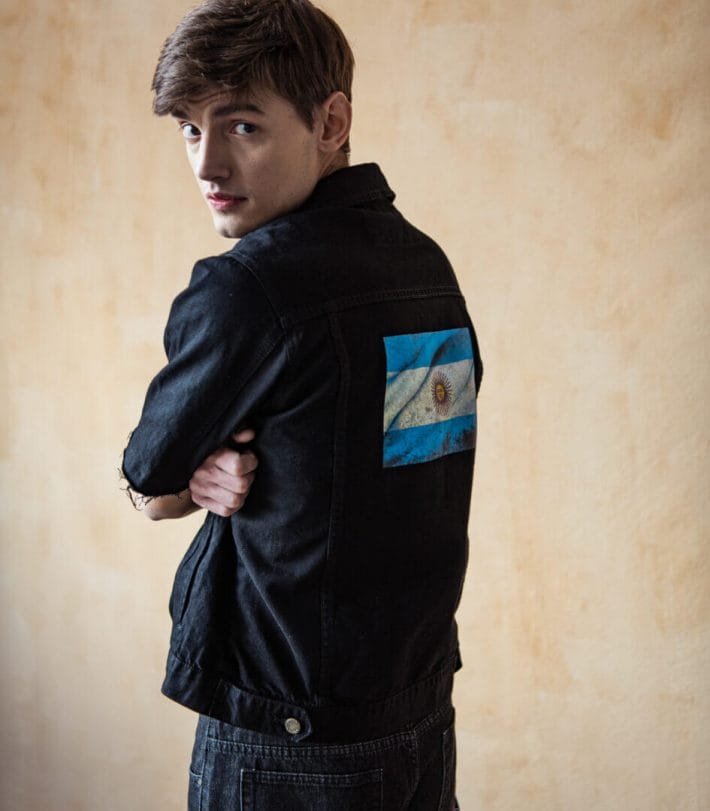 The SS22 collection consisted of polos, tees, tank-tops, underwear, henleys, athletic sweats and shorts. The standout piece was undoubtedly the polo. This collection highlighted the simplicity and elegance that menswear can possess. The design and quality were evident throughout. Despite more basic pieces, Mr. DeAcetis was able to depict the combination of Latino heritage with a western style that exuded what it means to 'dress as a man'. The colors popped with red, green, yellow, and the 'POTRO blue' polos. The accessories paid specific homage to the community, with the Latin-influenced jewelry and hats that were featured.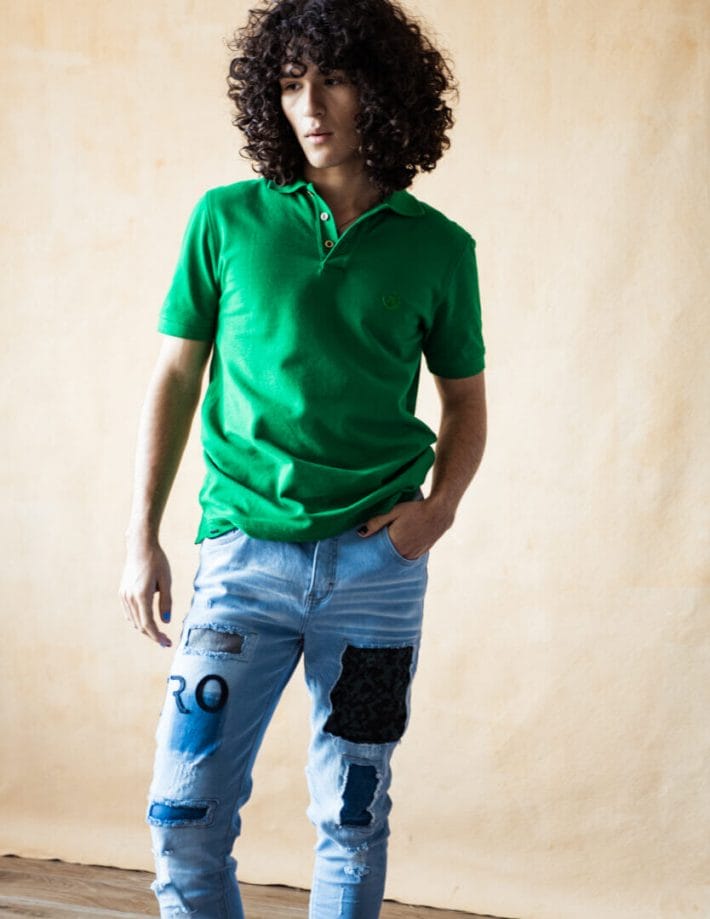 The FW22 collection was a change in direction for Mr. DeAcetis and showed his true knack for menswear, as well as demonstrating his eye for current and upcoming trends.
Faced with travel restrictions and limited access to the world at large, the youth generation of today aims to express this transformative nature into their modern wardrobe. A nomad of sorts: a twenty-first century explorer, poet, and adventurer. The end result is a collection that takes pride in heritage, celebrates individuality, and that can be worn however, by whomever.
A palette of earthy neutrals, khaki, mushroom and black is enlivened by orange and blue, with vintage-inspired dashes of metallic pink and purple. Fringe makes an unexpected appearance strewn across denim and ponchos. Traditional apparel items are subverted throughout the collection either with distressed Latino flags bursting from the back of a jacket or falling down the side of a sleeve. References to traditional counterrevolutions appear to hearken back to the 1970's with ponchos and flared jeans with patches –whilst exposed military buttons echo the craft of generations past.
POTRO's signature pieces take center stage in this collection. A jacket with a distressed finish gives a hint of 'hippie style' without ever losing sophistication. Elsewhere, shorts that are worn with long-john underpinnings, and gender-neutral lingerie pullovers, bring a sense of Gen Z's mastery of mixing textures, shapes and genders. A mix of nylon and pullovers are combined with hardware collar zips to form a hood on a sporty sweatshirt. Meanwhile, a few women's pieces snap up the collections with thigh-high textured shorts, worn with blouses featuring exaggerated bell sleeves – lending a strong style, reflective of the Latin heritage.
Finally, a contrast of texture and weight, sheer tanks, t-shirts, and long-johns provide a subtle hint of reveal, celebrating the new march forward into 2022/23.
Successful businesses are those that have the innate ability to adapt to change, as they incorporate known entities with innovative concepts to create something new and exciting. Fashion is the epitome of this, and I believe POTRO has the perfect mix of both.